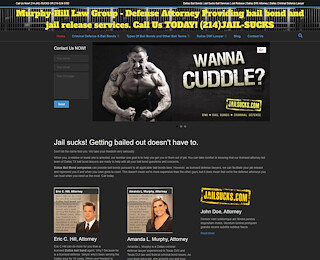 If you or someone you care about suddenly needs
bail bonds in Dallas
, it's not a very good day. Good thing you found us. We are Jail Sucks, and we specialize in arranging bail for people arrested in Grand Prairie, Mesquite, Rockwall, Garland, Dallas County, Tarrant County, Denton County,
Collin County, Johnson County and Grayson County.
If you've never been arrested before, you may not have a clue how bail bonds in Dallas work. If you are an experienced arrestee, you may be wondering who you can call for a bond in the middle of the night. In either case, it's probably a good thing that you educate yourself as to the ways of bail bonds in Dallas. As a rule, when someone is arrested for a crime in the State of Texas, that person will be transported to a local law enforcement station for booking, prior to incarceration in a county jail or lock-up at the police station. Once they've been booked, the defendant has a variety of options for release pending the conclusion of his or her case. These options include surety bond, cash bail and OR, or release on own recognizance. Bail is intended to guarantee the appearance of a defendant in court at the time ordered by a judge.
Nobody likes to find themselves in a position where they need Dallas bail bonds. We know this, so we endeavor to make the experience of covering bail as simple and as painless as possible. If you or someone you care about needs $10,000, $50,000 or even $100,000 bail bonds in Dallas, Denton County,
Collin County, Johnson County or Grayson County, you really should contact us right away. We know that jail sucks, and we've been helping Dallas residents make bail for more than fifteen continuous years. Hablamos Español. Llame 214.524.5789